There is much talk and speculation about how China's ban on recycling imports, such as mixed paper, will affect markets and the recycling industry, not only in the U.S., but worldwide.
Recyclers, material brokers, mill buyers, and others all have their opinion on how this will impact the industry. The problem is, it is all speculation, as nothing of this magnitude has ever been dealt with before.
What quantity of recyclable mixed paper does China currently import?
China imports over 13 million tons of recyclable paper products into their country each year. Of this amount, it is estimated that 3-5 million tons of this material is mixed paper. Calculated on a monthly basis, this equates to approximately 400,000 tons or over 18,000 trailer loads of material.
Keep in mind I am just addressing mixed paper, not the many grades of recycled plastics they have promised to BAN, among other items.
China is stating they will not just cut back on this – which would typically happen in the recycling industry during a cyclical downturn in the economy. China is stating they will BAN, and no longer accept or take delivery of this material.
What is "mixed" paper, and why is it generated in such large qualities?
Let me address this by looking into your average curb side collection container. Recycling facilities recover cardboard from these containers. Basically 100% of the remaining paper product is "mixed paper". This consists of writing papers, cereal boxes, junk mail, magazines, etc.
From a recycling facility, mixed paper is the grade left behind once all higher value material is sorted out. Unfortunately it is only cost effective to "sort" this material to a certain point, which is one cause of the large the volume of material we are discussing.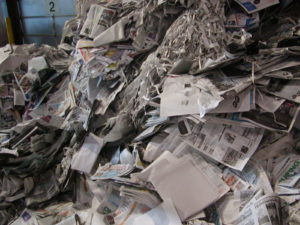 So what will happen to this mixed paper if it no longer has a home or "end market"?
If there are no practical markets this material will no longer be collected for recycling. Until adequate recycling capacity is either built or additional long-term outlets are created, the only outlet will be landfills or waste to energy facilities.
Keep in mind recycling is much like manufacturing, recyclers collect and produce a product that has a predetermined end value. If there is no end value, this material will no longer be collected. This is much like a manufacturer that produces a product that is not longer desired.  The company's product becomes obsolete, and eventually they revise their business plan to create a viable product or they go out of business.  I am not saying this is the case with all recyclers, as many are very diverse and handle multiple products that won't be affected by China's plans. This will however have a ripple effect, as other grades are "substituted" by Chinese manufacturers to fill their need to replace these banned grades.
One thing is for certain, the next 6-12 months will be interesting for all recyclers involved.
Keep an eye out for an additional article discussing what we feel could be the "ripple effect" from this ban.
Read up on other articles on this topic:
Repercussions on Recyclables from China's "National Sword 2017" Policy