My name is Randy Miller and my history is the recycling business. I am the third in my family to preside as President and owner of Miller Recycling Corporation, located at 73 Plymouth Street in Mansfield, MA.
In 1972, I started my career in the recycling business when I began working summers for my father, Frank Miller. Miller Recycling purchased paper and metals, processed this material, and marketed the finished product to companies throughout the Northeastern U.S. market. At this time, my father's recycling business was run from a 12,0000 square foot mill building in North Attleboro, MA. It was an authentic mill building, complete with a river running beneath its base.
Below is a photo of the equipment our recycling business used to bale these products. This is called a "pit" baler, which had a chamber, or "pit", resting 18 feet below the floor. Within the chamber, a floor would be lowered by chains as paper was filling into the baler. Both the type and density of the paper, or other material being baled, determined how far down the chamber floor went.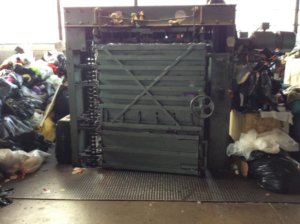 When a predetermined amount of paper was loaded into the baler, the front and back doors were closed and the chamber floor was raised. This compressed the paper against the top of the pit baler. Once the compression process was complete, the doors were opened and the bale was tied off and removed, to be replaced with another bale. A bale weighed between 1,500 to 1,800 lbs., so they were transported via hand truck. Eventually, the recycling business invested in a forklift, which handled the bales with ease. At Miller Recycling, we had several pit baler machines in operation. Each machine generated 18 to 25 bales per workday, equal to 15 to 20 tons a day.
Fast forward to 2016.
Miller Recycling has since advanced from the pit baler machines. Our recycling business has relocated our operations to an advanced, high capacity processing facility. We process all materials in a machine known as an automated high production 250 HP hydraulic twin ram baler. This machine has a production rate eight times higher than the pit baler. That makes Miller Recycling's capacity exceed 200 tons a day.
In addition, our processing facility is equipped with a 1200 panel, 300Kw roof-mounted solar installation, full truck scale, three floor scales, and four car railroad sidings. Our recycling business also operates five forklifts and two skid steer loaders on eight acres of property in the Cabot Industrial Park in Mansfield, MA.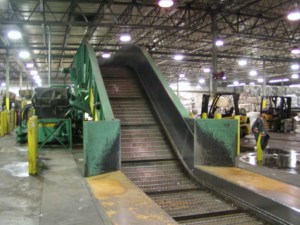 At Miller Recycling, we have the capacity to market our materials to consumers in the U.S. and around the world. We've gone from a water powered mill building to a solar powered industrial facility in a short span of years. And I am proud to announce that a fourth generation Miller is now on our payroll!
If you have any questions about our equipment or the facility in Cabot Industrial Park, please contact us.