How many companies can say they ran ads in the local paper, January 7th, 1941? We did!
In the early 1940's, Frank Miller Sr., our founder, saw an opportunity and began buying and selling everything from scrap metals, paper, textiles, and used furniture. He soon became known as the local "junk dealer," occupying a local mill warehouse in North Attleboro, Massachusetts, an area known for its jewelry industry. It turned out that Frank had settled into the perfect location for a company trading in scrap metals and paper, and the business boomed. The company was named "Frank Miller & Son", after Frank Sr. and his son, Frank "Red" Miller.
Frank Miller & Son stayed at this location for the next 60 years, and experienced many turns in the economy which tested the will and determination of the family business. Despite various challenges, the business continued to thrive.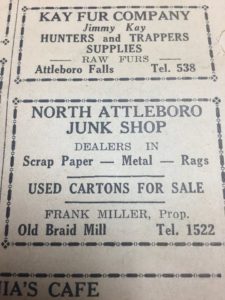 In the late 1960's Frank Miller Sr. handed the business down to his son, Frank, who continued to grow the business. In the 1980's, Randy Miller, (third generation), became President of the company and changed the company name to Miller Recycling Corporation, to better define the services the company implemented over the course of time.
Now, Miller Recycling includes 8 acres of industrial property, and includes a 73,000 square foot high bay warehouse, high production baling system, is equipped with an on-site truck scale, 3 additional floor scales, 10 loading docks, full 4 car railroad siding, maintenance area, office facilities, conference room and more. From this location we operate a fleet of 10 tractors and roll offs, including over 300 trailers and roll off containers.
We process and recycle materials such as paper, metal, plastic, electronics, organics, and hard to manage waste. In addition to commercial recycling, we also provide services such as equipment, material pick-up, shredding, data and product destruction, and salvage cleanouts. Contact us to procure our services for your recycling needs.