Many people wonder why there are charges related to recycling since recyclable materials have value. Think of recycling as one option for managing waste. The process of managing that waste costs money. The value of the material generated through the process is not always equal or greater than the expenses, including transportation, sorting, equipment and maintenance, state and town permits, taxes, electricity, and more.
Many companies are eager to "do the right thing" by recycling their waste whenever possible. They attempt to scrutinize, sort, and segregate what they determine to be recyclable materials and then try to sell these materials. For more on selling materials, see our previous post on obtaining the highest value for your scrap metals. What's the problem? Despite their good intentions, companies are discovering that it is sometimes cheaper to dispose of recyclable materials than to incur the cost of recycling and the expense of sorting, storing, shipping, etc.
Any derived value a company may feel their recyclable materials have can be offset by limited value or markets, or costs related to small quantities.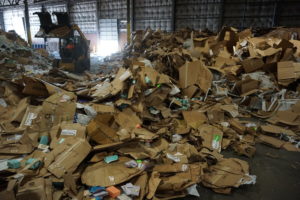 Of course, the above analysis is only a financial one. Unfortunately, many businesses just focus on the potential monetary return for their efforts and not the environmental benefits.
Miller Recycling Corporation is in the business of finding solutions to recycling and solid waste related problems. Our goal is to provide the answers, through waste reduction, recycling, and the implementation of efficient processing systems. Contact us to learn more about our recycling services.