Quick: does April 22nd mean anything to you?
If the date doesn't sound significant, you're not alone. Earth Day is held on April 22nd every year, although it's unlikely that many Americans have committed that fact to memory. It's not a holiday in the traditional sense; mail delivery continues as usual and kids don't get the day off from school. (It falls on a Monday this year.)
Younger Americans probably don't even realize that Earth Day is actually a fairly new addition to the calendar. The first one was proposed by Wisconsin Senator Gaylord Nelson. After the devastating 1969 Santa Barbara oil spill, Senator Nelson thought the country would benefit from a national day of education around the environment. The first Earth Day was designed to attract college students, so April 22nd was chosen because it landed between spring break and final exams.
Twenty million Americans participated in rallies and protests on that first Earth Day, and an annual event was born. Today, organizers in more than 180 countries observe Earth Day.
Why Earth Day Matters
In some ways, Earth Day is just another work day for us at Miller Recycling. Conservation and environmental issues are closely tied to everything we do. As industry experts, we know the critical role recycling plays in environmental protection efforts. Getting a lot of people to make small changes to the way they approach waste can create a positive domino effect.
For example, recycling, composting and combustion efforts saved about 1.4 quadrillion BTU of energy in 2015 (the most recent year for which data is available). That's equivalent to the amount of energy used by about 20 million U.S. households per year. Saving energy means reducing greenhouse gases, protecting natural resources and minimizing pollution.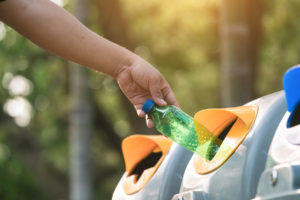 When we talk about Earth Day, it's also important to remember that recycling is a significant job creator. In 2007, recycling and reuse activities in the U.S. generated 757,000 jobs, $36.6 billion in wages and $6.7 billion in tax revenues (according to a 2016 EPA study).
Ultimately, Earth Day matters because it sparks awareness. Once a year, schools plan educational programs and media organizations do reports about Earth Day, starting a national conversation around the importance of recycling and reducing waste. Considering the recycling rate gradually increased from 6 percent in 1960 to 34 percent in 2015, Americans are getting the message that Earth Day was designed to spread.
Doing Our Part This Earth Day
Earth Day Network, the organization that coordinates Earth Day events every year, chooses a different theme each year. For 2019, the theme is Protect Our Species – a mission nearly everyone can support.
How might you participate this year? Here in Massachusetts, we have plenty of options.
    Take part in Mass Audubon's 13th annual

Statewide Volunteer Day

. On April 27th (the Saturday following Earth Day), volunteers will help clean up 14 wildlife sanctuaries around Massachusetts. Sites can use volunteers of all ages and ability levels.

    Find a local community cleanup project, using the

calendar

hosted by Keep Massachusetts Beautiful. Several towns throughout the state are planning trash pickup and beautification projects for April 27th. Here in Mansfield, home of Miller Recycling and Northeast Data Destruction, volunteers are preparing for the 12th annual Great Mansfield Cleanup. The work happens between 9:00 and 11:30 a.m., followed by a picnic at the XFinity Center.

Register in advance

to get a free T-shirt.

    Pitch in from the comfort of your couch by visiting the

Take Action section

of Earth Day Network's website. Learn about plastic pollution, donate to tree planting efforts and get information about organizing your own Earth Day event.
As Earth Day approaches, it's the perfect time to evaluate your own recycling efforts. Is your business using the most cost-effective and environmentally responsible practices, or could you use some expert guidance to create a more efficient system for collecting and recycling waste? Miller Recycling can help. Contact us today to learn more.