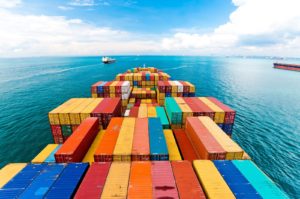 It's not your imagination: Prices have risen for all kinds of goods over the past six months. A shipping container shortage crisis is wreaking havoc on the global supply chain. As the shipping carriers that control these containers give priority to Asian exporters, companies in the U.S. and other parts of the world can't find or can't afford the shipping containers they need to export their products. The situation is affecting companies across many industries, including American recyclers that sell material to foreign buyers.  
It's a complicated mess that can be attributed to a number of different forces—but like so many of the hurdles that have affected American businesses and consumers during 2020 and 2021, the pandemic is largely to blame. Here's some of what's been happening over the last year, and how the shipping container shortage started. 
The pandemic changed spending patterns. As people shifted their buying away from brick-and-mortar stores and looked for ways to occupy themselves at home, online shopping soared. In

one survey

of 5,000 people, 49 percent said that they were doing more online shopping than they had pre-pandemic. Since many of the products Americans buy online are made in Asian countries, exporters have been rushing to meet demand and ship goods from Asia to U.S. ports as quickly as possible. 
Shipping carriers began rejecting American exports and sending shipping containers back to Asia empty. Typically, shipping containers that arrive at U.S. ports from China are emptied of their freight, then reloaded with American goods and shipped back. In October and November of last year, shipping carriers began prioritizing the fast return of shipping containers to China over American imports. Containers that were shipped to U.S. ports filled with Chinese exports were unloaded and then shipped back to China empty so they could be quickly refilled. (Many of the shipments that carriers rejected were agricultural exports from American farmers and food manufacturers.) In January, the CEO of Redwood Logistics

told CNBC

that three out of four containers going from the U.S. to Asia were empty. 
Because shipping containers are being sent back to Asia empty, American companies are struggling to secure shipping containers for their exports, and must pay a premium for any space they do manage to get. This means shipments are stuck taking up space at ports, which in turn causes delays with unloading full container ships when they arrive in those clogged ports. 
COVID procedures and staffing issues have slowed down activity at ports, contributing to delays. Many ports have had a shortage of dock workers at some point during the pandemic, with large numbers of these workers testing positive for the coronavirus and ports struggling to fill job openings. Loading and unloading procedures have also been slowed down due to social distancing efforts and other new health procedures. 
The weeklong Suez Canal blockage in March only compounded the global shipping crunch, worsening existing delays and raising costs for companies with shipments that were affected. 
The bottom line? Because of all this upheaval, shipping prices have skyrocketed over the past year. The Freightos Baltic Global Container Index (FBX), which tracks global shipping rates, shows a market rate of $4,267 to ship a 40 foot container in mid-April 2021, compared to $1,467 in mid-April 2020. That's a one-year price increase of about 190 percent. 
How the Shipping Crisis Affects Recycling  
For American recyclers, getting recyclable goods to Asian importers was already difficult before the pandemic. China has banned most types of imported plastic waste from its ports since 2018, and has been moving away from paper imports over the last several years as well. Some of the exporters that can no longer sell plastic, fiber and other recyclable solid waste to China found new customers in neighboring Asian countries—but the container shortage is now stymying their ability to make those shipments. (China does still import recycled scrap metal from America, though metal recyclers are also struggling to get their shipments onto vessels bound for Asia.) 
We're not yet sure what lasting impact this period will have on the recycling industry, if any. But many businesses and individuals may have already experienced the effects of the global shipping container squeeze—namely, shipping delays and higher prices for products coming from China. Rising shipping prices could translate to higher oil prices, which may in turn raise prices for any number of goods and services here in the U.S. over the coming year.
As the global shipping crisis continues to play out, Miller Recycling will keep you updated on any developments that affect your business. And as always, I'm happy to answer any recycling questions you have. Contact me today!